Each MotoGP race is different, but the experience is always exciting and creates memories that last a lifetime. To really up the ante on MotoGP races, guests can enjoy access to the MotoGP VIP Village™, which is the place to be for the 18 races around the world. Your lavish, all-inclusive weekend includes gourmet dining, Paddock tours, Pit Lane Walks and more – all in elegant surroundings.
Take a look below to get a visual of the experience you can have at a MotoGP race.
Gourmet Food
We want to make sure you are well-fed throughout the weekend by offering delicate cuisine that combines local and international flavors and is always freshly prepared throughout the day.
Although inclusions vary by event, here is a general list you canexpect at certain races:
Breakfast

Aperitifs and Tapas Bar

Gourmet Lunch

Afternoon Petit Fours

Complimentary Cocktail and Coffee Bar
Elegant Surroundings
The MotoGP VIP Village area includes outdoor marquees and luxurious suites, always fully-equipped with air conditioning and race television coverage. The facilities are located in exclusive areas that offer the best views of the race.
Entertainment
MotoGP VIP Village guests are able to take a 30-minute tour of the paddock, which allows you to get close to the riders, teams and sponsors. You can also experience the buzz of the Pit Lane with access to this restricted area. Some facilities offer a unique opportunity to follow riders around the track with a Service Road Tour in a BMW X5.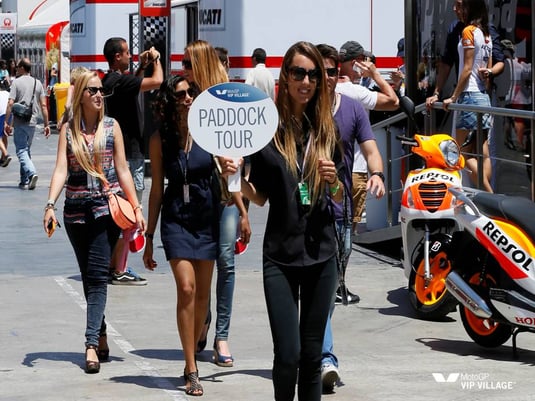 Be a Part of the MotoGP VIP Village™ Experience
There's no better way to experience MotoGP than with the highest level of service possible. Enjoy gourmet food and a complimentary bar in a luxurious environment. Plus, have the best views of the track in the most privileged part of the Circuit.
With a MotoGP VIP Village access, you can make any MotoGP race the best trip of your life.